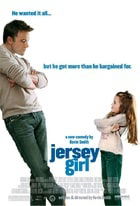 Posted : 23 hours, 42 minutes ago on 20 August 2014 10:25 (A review of
Jersey Girl
)
It has been a while since I have seen this flick and I will probably re-watch it when I get the opportunity. Back then, it was in fact the most expensive movie directed by Kevin Smith but, eventually it was a critical and commercial failure and it is usually regarded as one of the weakest movies made by Smith. Personally, I tend to disagree and I don't think it was that bad after all. First of all, it was not Smith's fault that Affleck was going through a very bad period in his career and, just before this movie was released, he had a much publicized split up with Jennifer Lopez. As a result, Lopez' role was reduced as much as possible and we never actually saw the version meant by Smith. On the other hand, you could argue that Kevin Smith might not be the best director to handle a mainstream rom-com like this one (he did a pretty good job with 'Chasing Amy' though). Still, in my opinion, it was a rather believable and sweet romantic feature and the characters involved were interesting enough. To conclude, even though it is obviously not a masterpiece, I think it is actually pretty good and it is worth a look, especially if you are interested in Kevin Smith's work.

0 comments,
Reply to this entry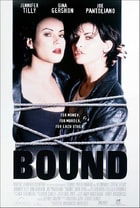 Posted : 1 day, 1 hour ago on 20 August 2014 08:47 (A review of
Bound
)
The Wachowski siblings… After creating one of the most iconic features of the last millenium (even though I'm not a huge fan of 'The Matrix', I can't deny its huge impact), they have been pretty much struggling ever since and all their following efforts have been rather poorly received (personally, I thought that 'Cloud Atlas' was actually quite amazing though). The funny thing is that their directing debut was not a massive SF extravaganza but actually a rather small neo-noir feature. To be honest, it wasn't really a game changer but it was still a thoroughly entertaining feature and the whole thing was actually a pretty solid for a directing debut. The most interesting aspect was that the two main characters were actually two women which is something you don't see enough and it was also nice that they went for Jennifer Tilly and Gina Gershon, two interesting actresses who don't get often the opportunity to shine in the lead. Eventually, this movie was barely seen when it was released but the word-of-mouth was pretty good and, after that, they got the opportunity to direct their magnum opus. To conclude, I think it is a pretty good flick and it is definitely worth a look, especially if you are interested in the the Wachowskis' work.

0 comments,
Reply to this entry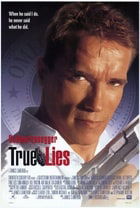 Posted : 1 day, 2 hours ago on 20 August 2014 07:47 (A review of
True Lies
)
Even though it is a rather weaker effort in Cameron's career, it was, at that time, the most expensive movie ever made (a recurring trademark in Cameron's work). Basically, it is a rather light and goofy action comedy with some rather impressive action scenes thanks to the massive budget mentioned before. As a matter of fact, it was also a remake of a French movie called 'La Totale' but it was barely seen abroad (I haven't even seen it myself to be honest). Eventually, I have re-watched this flick recently and I thought it was a decent watch. For once, it seems that James Cameron didn't take himself too seriously and, in fact, it is his only film which could be described as a comedy (there is still tons of action though). Therefore, you have a rather odd mix. For example, you have the now iconic lapdance by Jamie Lee Curtis, a scene which is quite awesome on one hand, but on the other hand, it doesn't make much sense to have all those spies trying to trick this housewife. Furthermore, at the end, you have this spectacular action scene with this plane and there was Eliza Dushku hanging there for maybe 15 minutes and, honestly, I wonder if it was really appropriate. Still, even though it is nothing really amazing, it remains a decent action-comedy and it is worth a look, especially if you like the genre.

0 comments,
Reply to this entry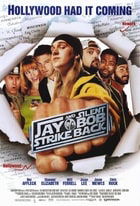 Posted : 1 day, 19 hours ago on 19 August 2014 02:50 (A review of
Jay and Silent Bob Strike Back
)
Since I have been faithfully following Kevin Smith's career from the very start, of course, I was very interested by this flick. It has been a while since I have seen it and maybe, I should give it another try but, honestly, I thought it was seriously underwhelming. I mean, to make a movie centering on those 2 characters was a great idea and the whole thing definitely had some potential and it could have been a blast if it would have been developed properly but, unfortunately, the end-result was eventually a big mess and, worst of all, not really a funny mess. As usual with Smith's work, it was rather poorly acted but, for once, also rather poorly written, at least that's my opinion, with one scene following the other without making much sense. Eventually, when you get a huge succession of cameos, it is never a good sign and it is usually a way to hide how underwhelming the story is in fact. Maybe those two guys were only good as supporting characters or maybe I wasn't in the right mood the first time I watched it? I doubt it though… To conclude, I could have been great but, at the end of day, it is actually pretty damned average and I don't think it is really worth a look.

0 comments,
Reply to this entry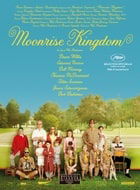 Posted : 1 day, 19 hours ago on 19 August 2014 02:20 (A review of
Moonrise Kingdom
)
Since I really enjoyed a lot 'The Grand Budapest Hotel', the latest directing effort by Wes Anderson, I was really eager to check his previous movie who was also very well received at the time. Well, I was once again really impressed. A last, it seems that Anderson finally got it. Indeed, ever since I have seen 'The Royal Tenenbaums' in the movie theater when it was released, I thought that he was a really interesting director who had a very distinctive visual style and who could create some really nice daft characters. Unfortunately, I always had a hard time to care about his stories which were always ok but never really fascinating. With this movie, he finally nailed it and managed to give something visually really neat, some hilarious eccentric characters and, at last, a really entertaining tale. Indeed, it was actually a very sweet teenage love story and I had a blast with those scouts (my step-son has been a scout for many years so the whole thing was kind of surreal for me). Finally, the last masterstroke was to have Bruce Willis in one of his best performances from the last 10 years. Indeed, he played again a cop (seriously, a genius move) but an old one who doesn't seem to have seen a lot of action during the last 20 maybe even 30 years. Edward Norton was pretty awesome as well. To conclude, it is a really good flick, it really deserves its reputation and it is definitely worth a look, especially if you are interested in Wes Anderson's work.

0 comments,
Reply to this entry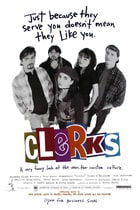 Posted : 2 days, 23 hours ago on 18 August 2014 10:49 (A review of
Clerks
)
In my opinion, it is one of the greatest movies ever made. I'm dead serious, by now, I must have seen it at least 30 times which is more than any other movie and, in fact, I was even one of the happy few who managed to watch it in the theater when it was released. Back then, I was just 14-15 years old and I was just blown away by the whole thing. Indeed, I thought that the dialogs, the characters, the situations were just really genuine and very often just hilarious and I never saw something like that before. A year later, I would buy the VHS for my sister (with whom I saw the movie the 1st time around) and she really screamed of happiness. After that, it is one movie I would show every time I would meet someone really cool and 99% of the time, they would just love it (one notable exception is my wife though… Well, nobody is perfect, I guess). Perhaps, I'm too generous and, maybe, it is not that great but this flick had just a huge impact on me and, therefore, I still believe it is one of the best movies ever made. To conclude, this movie is one major milestone in my movie-watching history and I will cherish it forever.

0 comments,
Reply to this entry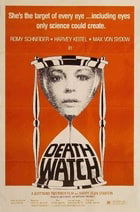 Posted : 3 days ago on 18 August 2014 09:28 (A review of
Death Watch
)
It is once again a rather obscure French movie which not much people have seen here in Listal. Even though Bertrand Tavernier is pretty much unknown here in Listal, he is actually one of the best French directors from the last 40 years and I always had a weak spot for his work so I was quite eager to check this movie. It is one of the very few movies directed by Tavernier which was in English and the whole thing was rather odd compared to his usual work. Indeed, basically, it is a very minimalistic SF feature dealing with TV reality which would be created eventually 20 years later. To be honest, it wasn't entirely successful as the whole thing was a little too dry and the concept couldn't have been therefore a little bit more developed but I still think it was pretty good. The casting was also quite interesting. Indeed, Romy Schneider was one of the most popular actress in Europe at the time (she would die 3 years later) and Harvey Keitel had fallen from grace in the US after being fired from 'Apocalypse Now' and he would spend a good chunk of the 80's making such obscure European features. To conclude, even though it is nothing really amazing, it remains a decent feature and it is worth a look, especially if you are interested in Bertrand Tavernier's work.

0 comments,
Reply to this entry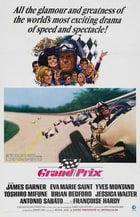 Posted : 3 days ago on 18 August 2014 09:10 (A review of
Grand Prix
)
Honestly, I had some rather mixed feelings about the whole thing. First of all, with a running time of 3 hours, it was just way too long for its own good. I mean, it was a nice touch that you were allowed to follow this championship through different races, allowing different drivers to win and, as a result, there was quite some suspense about who might become the champion after all. Still, the main issue is that Formula one is, in my opinion, actually one of the most boring sports out there. I remember, I had an Italian friend who used to say that there are only 2 interesting events during a Formula one race : the start up and when there is a car crash. The rest is just cars driving around and around endlessly (and I'm from Le Mans where they do this for 24 hours so I know what I'm talking about). This movie is a fine example of this theory. Indeed, Frankenheimer can direct action scenes and the races were pretty exciting but it got pretty repetitive after a while and, therefore, there were 2 major accidents plus some minor ones to spice up the proceedings. It was also an interesting approach to develop the life of the drivers between the races but, unfortunately, their life was pretty much reduced to a soap opera which was rather underwhelming. To conclude, I think I'm being rather generous with my rating but I think it might still be a worth a look, especially if you are fan of this sport.

0 comments,
Reply to this entry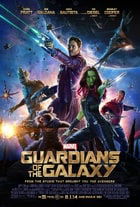 Posted : 4 days, 12 hours ago on 16 August 2014 09:47 (A review of
Guardians of the Galaxy
)
Wow! That's what you can call a fun movie. I have to be honest, when I heard that Marvel was planning to release 2 or 3 super-hero flicks every year for the coming decade, I was pretty sure that they would saturate the market and end up with some major flops but if they keep reinventing themselves like that, it might take longer then I thought before they mess up, in fact, it might never happen at all after all. Indeed, this movie actually had basically the same usual ingredients but they managed to give it just the right flavour to make it really tasty. First of all, it is a gorgeous SF feature, one of the most interesting futuristic worlds I have seen for a while, full of neat details. Then, you had those awesome hilarious characters far more entertaining than your usual powerful and righteous super beings. The nice thing is that, contrary to the Avengers, those characters were completely new and rather unknown (at least, to me) so the potential is huge to develop their background and history in the next sequels. This potential is pushed even further since it is taking place in outer space so their future adventure can be set in some wild and strange worlds without the constraints of our planet. So, I really enjoyed it, it is one of the best super-hero flicks out there, even the best movie produced by Marvel so far, and I will definitely check the sequel when it's coming out.

0 comments,
Reply to this entry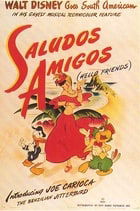 Posted : 5 days, 13 hours ago on 15 August 2014 08:45 (A review of
Saludos Amigos
)
Honestly, I wasn't expecting much from this flick but since it is one of the famous Disney Classics, I was still eager to check it out. In fact, I thought I already saw it but I confused it with 'The Three Caballeros' released around the same time. Both movies have many similarities as they don't have one storyline but are composed of sketches all dealing with South American (Apparently, those movies were created by Disney in order to improve the US relations with South American countries during World War II). I know, it doesn't sound really fun and, indeed, it wasn't and we are far from the impressive productions of 'Snow White and the Seven Dwarfs', 'Pinocchio' or 'Bambi'. I was also surprised about how short the whole thing was! Indeed, with a running time of just above 40 minutes, it is the shortest movie produced by Disney and it can hardly be called a full length feature. At least, it introduced José Carioca who was a pretty neat character but he never managed to reach the same status as Donald or Mickey. To conclude, it is a rather weak feature and I don't think it is really worth a look, except if you are a die-hard Disney fan.

0 comments,
Reply to this entry