Posted : 11 hours, 45 minutes ago on 22 April 2014 10:10 (A review of
Amour
)
Since I have always been a fan of Michael Haneke's work, of course, I was really eager to check this flick. Man, even though the guy is already around 70 years old, he is definitely on fire right now and won with this movie his 2nd Golden Palm in a row at the Cannes Film Festival and it won many other awards as well. And, indeed, it definitely deserved all the praises it has received and, personally, I enjoyed it more than 'The White Ribbon' which was pretty good but didn't really blow me away. Anyway, it is pretty amazing to see the evolution of Haneke through his movies. I mean, he has always been fascinated by death and how mankind deals with it ('Der siebente Kontinent', 'Benny's Video', '71 Fragmente einer Chronologie des Zufalls', 'Funny Games') but his vision was always ice cold and pretty much emotionless. Here, he finally gives us the opportunity to dive in his vision of our world but, for once, he allowed us also to invest ourselves in the characters and the end-result was quite amazing. Furthermore, I always find it disappointing that so few movies are made about elderly people (even though the older population is ever growing) and there is always this disappointing focus and obsession on youth. Well, here you get a realistic and spellbinding portrait of two old people who are facing the end of their journey together and the subject has never been handled so brilliantly before. To conclude, like all the movies directed by Haneke, it is not an easy watch but, nonetheless, it is definitely worth a look.

0 comments,
Reply to this entry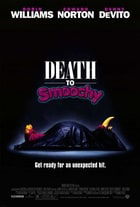 Posted : 16 hours, 49 minutes ago on 22 April 2014 05:05 (A review of
Death to Smoochy
)
Honestly, I wasn't sure what to expect from  this flick but since I'm (or was) a huge fan of Edward Norton, I was still eager to check this movie even though it is a really obscure feature. At the time, Edward Norton was one of the most exciting young actors around (he just showed up in 'Fight Club' and 'American History X')  and this movie was one of the many bewildering choices he made afterwards throughout his career. I mean, Danny DeVito did make some decent movies as a director (I especially enjoyed 'The War of the Roses') but he has never become a major director and this movie must be his most obscure one. Surprisingly, it was a wide release but it turned out to be a major flop at the box-office. Personally, I thought the story had some potential as a dark black comedy dealing with some messed up children's television hosts but the whole thing never managed to find the right tone. Indeed, basically, both Robin Williams and Edward Nortong were portraying some rather annoying caricatures so I was rather difficult to take the whole thing really seriously. To conclude, even though it was very flawed, I still think it is worth a look though somehow, especially if you are a fan of Edward Norton's work.

0 comments,
Reply to this entry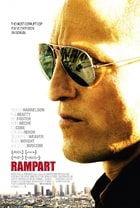 Posted : 1 day, 12 hours ago on 21 April 2014 09:53 (A review of
Rampart
)
Even though this movie didn't get much love (just check the ratings here on Listal and Imdb), I was still intrigued by this flick and the fact that Roger Ebert really loved it made it even more interesting. Eventually, I thought it was pretty good but not really brilliant though. I mean, pretty much like in 'The Messenger', the previous directing effort by Oren Moverman also starring Woody Harrelson, the directing was really solid and he managed to create some truly 3 dimensional characters but the story didn't really convince me. First of all, it was hardly original. I mean, by now, I have seen my share of movies dealing dirty cops (even though David Brown was not necessarily corrupted but messed up and really violent) and while this one was really well made, it didn't show anything really new. Furthermore, the narrative was a little bit confusing and while the cast was good, there were just too many supporting characters. Still, there is no denying that Woody Harrelson delivered once again a fearless performance, it was great to see him as the lead and he was simply terrific. To conclude, even though it is indeed flawed, I still think it deserves more credit and it is definitely worth a look.

0 comments,
Reply to this entry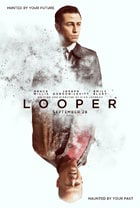 Posted : 2 days, 11 hours ago on 20 April 2014 10:00 (A review of
Looper
)
After hearing a lot of good things about this flick, I was really eager to check it out. And, apparently, at last, Rian Johnson really nailed it. Indeed, even though I did like both 'Brick' and 'The Brothers Bloom', neither were really brilliant but, with this flick, he definitely pushed his skills to a whole different level. Basically, it is a visually impressive and quite fascinating SF feature and one of the few movies which managed to deal with the time travel concept in a satisfactory way. Furthermore, Joseph Gordon-Levitt, who was barely regonizable, once again displayed that he is one of the best actors of his generation. Still, even though I enjoyed most of it, there were still some flaws in this flick. Of course, you could argue that any movies dealing with time travel have always some major plot holes issue but, as it was pointed out by Bruce Willis, 'it is messy', and that was not really my main problem. First of all, even though the Older Joe played by Bruce Willis is properly introduced, this character was actually hardly developed afterwards as he has one track-mind which was rather disappointed. Furthermore, what the hell where those numbers? At some point, he gets a phone-call from some other guy who explains to him that they are really important and, somehow, he figures exactly what to do with them out of the blue… Also, how did the younger Joe ended up in that farm? Just because it was nearby the dinner? Even if you put aside all the issues caused by the time-travel concept, there were still some stuff that didn't really add up. Still, it remains a vivid and entertaining SF flick, probably one of the best movies dealing with this messy concept and it is definitely worth a look, especially if you like the genre.

0 comments,
Reply to this entry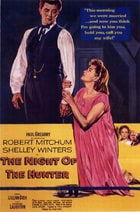 Posted : 3 days, 13 hours ago on 19 April 2014 08:49 (A review of
The Night of the Hunter
)
Since I kept hearing great things about this flick, I was really eager to check it out. Well, I have to admit it, it is a really odd feature, the only directing effort by Charles Laughton, Robert Mitchum's favorite movies of his one, and, unsurprisingly, it was a critical and financial flop when it was released. Honestly, could you expect such a weird dark tale to reach an audience back in the 50's? Even myself, 60 years later, I find it difficult to grasp the whole thing. Roger Ebert had some interesting theories about this movie, that it was some kind of nightmare which was something I didn't think of while watching it and he also described it as an horror feature but I didn't really agree on this. Like I said before, the whole thing is rather odd and, sometimes, it jumps from one scene to another without much continuity but there is no denying that it was quite spellbinding to behold. Above all, it is not often that you will come across such a despicable messed up and yet somewhat charismatic main character with a pitch perfect Robert Mitchum. To conclude, it is a really unique feature, a fascinating flick and it is definitely worth a look.

0 comments,
Reply to this entry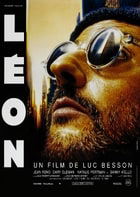 Posted : 3 days, 20 hours ago on 19 April 2014 01:02 (A review of
Léon: The Professional
)
Again, a French classic and I was expecting something really really good. It was actually not bad at all. I like the directing (Luc Besson can definitely direct a movie) and the good acting (Natalie Portman's first part) but the story, the dialog... (the writing is notoriously not the best aspect of Mister Besson). Many people don't know it but the director's cut has actually some pedofile love scenes between Jean Reno and Natalie Portman... Beurk... It makes it even worse

0 comments,
Reply to this entry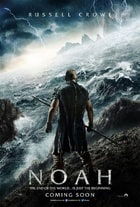 Posted : 4 days, 10 hours ago on 18 April 2014 10:57 (A review of
Noah
)
At last, Darron Aronofsky was allowed to make a big blockbuster and, of course, I was really eager to check the end-result. Eventually, he didn't go for the easy path and decided to go all the way and direct a massive biblical epic. To be honest, even though I was quite impressed, I'm still not quite sure what to make of the whole thing and I will probably re-watch it at some point in the future to make up my mind for good. First of all, it was visuallly impressive. I mean, throughout the movie, you get some mystical imagery but he managed to give it some really intriguing look and you really get the feeling that you are watching something out of this world. I have to admit it, I'm not a religious person, in the contrary, and I'm not sure I actually really cared about this ancient tale but I have always been fascinated by the concept of religion and this movie definitely gave some food for thought. Indeed, even though the scale was huge, the whole thing is basically about Noah himself and the struggles he has to face. How does he know exactly what his creator has meant him to do? He simply doesn't and becomes pretty messed up in the process. Indeed, while building the ark, all the animals come automatically so that was pretty easy but what about mankind? How do you decide to let millions of people to die? Did they all deserve this fate? From that point, Noah is eaten by guilt and becomes pretty much a fanatical doomsday despot who decides that even his family should die. And that's when the movie gets really fascinating and shows the difficult concept behind any faith and religion. Indeed, men are made of flesh and bones, they have feelings and even if you do something good, should you feel good about it, should you be proud? Noah did something terrible and he was even planning to kill his grand-children but he would save the planet in the process so that might be ok? Furthermore, who is he to decide who should live and who should die? I also enjoyed the way Ray Winstone developed some pretty interesting theories like if the creator gave us so many mighty gifts/powers and it is probably to use it, isn't it? And after all, aren't we dominating the world as it is nowadays? That's some very great stuff and still, somehow, I can't shake the feeling that the whole thing was not flawless. For example, the way Logan Lerman finds a girl was completely phony and also the way Anthony Hopkins had a major influence on those events didn't work very well either. Futhermore, their genetic pool seems to be terribly limited to repopulate the Earth (does it mean that the youngest boy will have to be a bigamist and have sex with both his nieces (hopefully, not at the same time...) ?). Of course, you could say it was God's will but I don't buy it as it is one of the major weaknesses in all religions in general. Still to conclude, it is quite a thoughtful epic and it is definitely worth a look, especially if you are interested in Darren Aronosfky's work.

0 comments,
Reply to this entry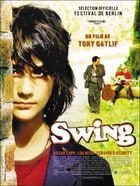 Posted : 4 days, 16 hours ago on 18 April 2014 05:42 (A review of
Swing
)
To be honest, I had seriously no idea what to expect from this flick but since Tony Gatlif's work is usually really interesting, I thought I should give it a try. As a matter of fact, Tony Gatlif is rather unknown here in Listal but his movies are actually pretty good. Usually, they deal with gypsies and other outcasts and there is definitely something mesmerizing about those movies. This time, he actually made a family feature still dealing with gypsies but with some kids as main characters. So, it was rather lighter than his usual work but I can't say I was really impressed by the plot himself. Indeed, in my opinion, the whole thing was just too pedestrian and, honestly, not really interesting. On the other hand, the music which has always been central in most of the movies directed by Gatlif, was once again really awesome and could almost be described as a character on its own. The kids also gave some decent performances and the whole thing was a pretty nice watch. To conclude, in spite of its flaws, it was a refreshing family feature and I think it is definitely worth a look, especially if you like the genre.

0 comments,
Reply to this entry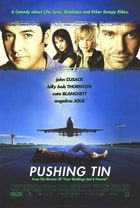 Posted : 4 days, 16 hours ago on 18 April 2014 05:38 (A review of
Pushing Tin
)
Honestly, I wasn't sure what to expect from this flick but since there was a pretty cool cast, I was quite eager to check this movie. Indeed, a movie involving John Cusack, Billy Bob Thornton, Cate Blanchett and Angelina Jolie would be quite an event nowadays but, back then, it was actually hardly noticed. Eventually, it is a rather odd movie dealing with air traffic controllers which gave you the feeling it was rather schizophrenic and didn't know what it was actually really about. The point is that all the details about the air traffic controllers were actually quite convincing and pretty neat but all the romantic intrigues involving the actors I mentioned before where rather underwhelming. I mean, it was fun to see the movie during which Billy Bob Thornton and Angelina Jolie fell in love (they would marry each other soon after for 3 years) but not much more than that, I'm afraid. Unsurprisingly, this movie was a flopped when it was released but I can't say I was surprised but I think it is a shame because the whole thing really had some potential. To conclude, even though the whole thing was a rather odd mix, I still think it is worth a look though.

0 comments,
Reply to this entry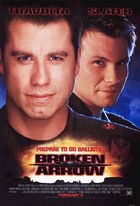 Posted : 4 days, 16 hours ago on 18 April 2014 05:35 (A review of
Broken Arrow
)
At some point, John Woo was considered the best director from Hong-Kong and it was a big deal when he finally decided to make the move to Hollywood. His first US feature, 'Hard Target', was actually pretty decent and definitely one of the very few movies starring Jean-Claude Van Damme which were actually watchable. This movie was his American follow-up and the scope was definitely bigger this time with a plot dealing with some stolen nuclear warheads. At the time, there was a pretty good buzz about this flick, everybody still had some high expectations about Woo's US career, and even though it didn't grow old very well, it was still a rather entertaining action flick. Back then, John Travolta just made his come-back with 'Pulp Fiction' a couple of years before and the guy was definitely a hot item. I think it was a great move from him to portray a villain, something really different than in his previous work in 'Get Shorty' and 'Pulp Fiction' and he was definitely one of the best things about this flick. Indeed, I always had a weak spot for Travolta and he always delivers when playing the bad guy. Back in those days, Christian Slater was still very much in demand (God, it was almost 20 years ago… I feel so old suddenly…) and he did his best but he was pretty much outperformed by Travolta. A part from this, the story was pretty much ludicrous but the action scenes were pretty solid and entertaining. To conclude, even though it is nothing really amazing, it remains a decent action flick and I think it is worth a look, especially if you are interested in John Woo's work.

0 comments,
Reply to this entry