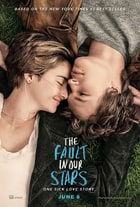 Posted : 12 hours, 25 minutes ago on 21 September 2014 07:45 (A review of
The Fault in Our Stars
)
Honestly, it is not the kind of movies I would have expected to watch with the filmclub. Indeed, it is a commercial feature adapted from a popular young adult novel so we hardly seemed to be the targeted audience. So, it was definitely a daring choice but, eventually, I thought it was not bad at all. Indeed, the relationship between those two teenagers was really touching and convincing thanks to the amazing performances by Shailene Woodley (the new rising star) and Ansel Egort (never heard of the guy before). Unfortunately, pretty much everything else in the movie was at best decent and sometimes even rather worthless. For example,
the way they make you think during 3/4 of the duration that the girl will die but, suddenly, the roles are reversed and she is actually the one surviving,
that's just a poor gimmick to add an extra layer of drama. The worst was probably the few scenes involving the writer which were just contrived and rather cringe-inducing. So, as a result, you had one of the most beautiful and emotional love-stories involving teenagers I have ever seen but those kids were unfortunately stuck into the gimmicks and tricks of your average Hollywood melodrama. Still, it was a decent drama and I think it is definitely worth a look, especially if you like the genre.

0 comments,
Reply to this entry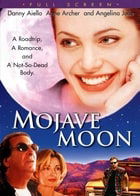 Posted : 1 day, 9 hours ago on 20 September 2014 10:23 (A review of
Mojave Moon
)
Honestly, I had no idea what to expect from this flick but since I had it on DVD for already more than 2 years, I thought it was really time to finally watch the damned thing. Well, basically, it is one of those movies that some stars make at the beginning of their career and, like everyone, they have to start somewhere and the only reason this movie has not been completely forgotten (it is still pretty obscure though) is because Angelina Jolie has become since then a huge star. Honestly, I think I more or less cared for the whole thing for maybe the first 15 minutes but then it became rather convoluted and actually rather boring. What is the genre here in fact? Really difficult to pinpoint... It seems that it was just a mix of rather daft and rather non-sensical scenes. Still, from the moment Angelina Jolie was on the screen, she was quite spellbinding to watch, which was quite something since her character was actually rather shallow and uninteresting. Sure, she looked really gorgeous but it went beyond that, she was just really charismatic and I really wanted to spend more time with this character even though she probably had nothing interesting to say. Still, even though it was fun to see a very young Angelina Jolie (In fact, I was rather amazed to discover that she was just 21 years old at the time), it still remains a really weak feature and I don't think it is really worth a look.

0 comments,
Reply to this entry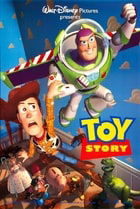 Posted : 2 days, 10 hours ago on 19 September 2014 10:11 (A review of
Toy Story
)
So, that's where it all started for Pixar. Of course, Pixar was working on CGI animation for more than a decade but it was their first full length feature, the first time they reached a broad audience. At the time, there was a pretty good buzz about this flick, I was even lucky to see it in the movie theater when it was first released but nobody expected that it would become such a phenomenon, creating a whole new trend of animated features in the process. Indeed, it was obviously a huge success and, eventually, it became a major milestone in motion picture history. Indeed, suddenly, hand-drawn animation which was mercilessly ruled by Disney was dropped and everyone, virtually every single studio, started to make CGI animated features with some various amount of success. Coming back to our game changer, like I said before, I had the pleasure to see it in the theater when it was released (like most of Pixar's features) and it was quite mind-blowing. Back in those days, it was something completely new and even though it does look a little bit old today, it was really impressive when it was released. Above all, their masterstroke was to not only blew us away technically but also to provide an entertaining, touching and rather deep story with some great characters which would be an enduring trademark in Pixar's work. To conclude, it is pretty much a classic and it is absolutely worth a look, especially if you like the genre.

0 comments,
Reply to this entry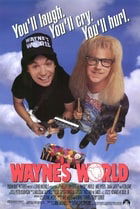 Posted : 2 days, 19 hours ago on 19 September 2014 12:52 (A review of
Wayne's World
)
Honestly, it has been a while since I have seen this flick but when I was a kid, it was pretty much a classic. Indeed, I watched it many times and I thought it was just really hilarious. It is rather funny that this movie was so popular among young French teenagers since we missed many jokes based on American pop-culture and we had actually never heard of Saturday Night Live and we had no idea that this movie was based on a popular skit on this show. In fact, it is probably the only movie based on a Saturday Night Live skit which turned out to be so successful (in fact, 'The Blues Brothers' became also a cult-classic but it is still the only Saturday Night Live spin-off movie to date that has grossed over $100 million). I should re-watch it at some point, maybe I will find it completely stupid and boring but, at the time, I thought it was pretty funny. At the time, it was Mike Myers' acting debut and he has been quite successful also with Austin Powers but 'The Love Guru' was a major failure and the guy hasn't done anything much since then. Anyway, to conclude, even though it might not be a masterpiece, I think it is a decent comedy and it is definitely worth a look.

0 comments,
Reply to this entry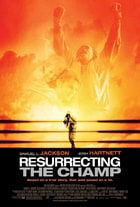 Posted : 3 days, 11 hours ago on 18 September 2014 08:42 (A review of
Resurrecting the Champ
)
What ever happened to Josh Harnett? At some point, following 'Pearl Harbor', he seemed to be on the verge of becoming the next best thing but it never really happened. Apparently, he refused a couple of high profile roles like Superman for example to focus on some smaller movies with a supposedly higher artistic value. Well, this movie was one of those but, I have to admit it, the story was pretty good. Unfortunately, I had some trouble to connect with the main character. I mean, I'm not sure if we should blame Josh Harnett since this character was not really well written and you never really know if the guy was actually an opportunistic douche-bag who manipulates everyone to get what he wants and even lies to his kid to impress him or a talented writer who really loves his son. The other thing that bothered me is that they tried to convince you that this reporter was careless and that he didn't do his job properly but I didn't buy it. I mean, he didn't make it up, he made some research, his assistant made some research as well and he even got a video were the guy was actually fighting the other guy he was impersonating (such a convenient but preposterous gimmick to move the story forward). And, suddenly, all this material that they couldn't find was revealed when 5 minutes before that there was nothing to be found about this boxer. Still, in spite of these flaws, it remains a pretty good story with some great potential and I still think it is worth.

0 comments,
Reply to this entry
Posted : 3 days, 20 hours ago on 18 September 2014 12:11 (A review of
The World Is Not Enough
)
Personally, I always had a weak spot for Pierce Brosnan when he was playing James Bond. Sure, Daniel Craig is completely awesome as the famous spy and the guy completely owns the part now but Brosnan was also pretty good as well, just behind Connery and Craig in my opinion and I think he should get more credit for his turn as Mr Bond. However, if Pierce Brosnan was always awesome, the movies themselves were not always great though. Indeed, for example, this one was rather disappointing in my opinion. The first issue I had was with Sophie Marceau. I mean, sure, she looked great and, on paper, she sounded like a great choice to play a bad Bond-girl but, eventually, I thought that her performance was just pathetic. Usually, you don't need the best acting chops to play a Bond-girl but her performance was so weak, it was just really distracting. Concerning Denise Richards, it was not much better, I'm afraid. Of course, she looked quite charming, but it was rather preposterous how she showed up completely random so that our beloved spy gets an attractive female sidekick. To conclude, to be honest, my rating might be a little bit harsh, but I thought it was rather weak, especially compared to the previous installments starring Pierce Brosnan and I don't think it is really worth a look.

0 comments,
Reply to this entry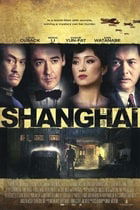 Posted : 4 days, 11 hours ago on 17 September 2014 09:01 (A review of
Shanghai
)
From the moment I heard about this movie, I became quite intrigued and I was quite eager to check it out, even though it didn't get much love and was barely seen when it was released. Indeed, personally, I always had a weak spot for those good old vintage exotic spy flicks with a dash of film noir. Eventually, this one had a terrific mood and Hafstrom managed to create a believable and fascinating dark and ominous city. Unfortunately, even though the story was not bad, it was still pretty weak, especially the underwhelming and predictable love story involving John Cusack and Gong Li (the way he completely spills the beans to her towards the end was also completely unbelievable). Finally, even though most of the cast (Gong Li, Chow Yun-Fat, Ken Watanabe, David Morse, Franka Potente, David Morse, Rinko Kikuchi) was pretty flawless and perfect for their parts, I thought that John Cusack was terribly miscast and really unconvincing as a supposedly smooth and lethal spy. To conclude, the whole thing had some potential, it really looked really great, and in spite of its flaws, I still think it is worth a look but there is no denying that it could have been much better.

0 comments,
Reply to this entry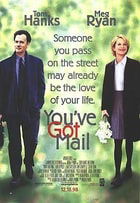 Posted : 4 days, 20 hours ago on 17 September 2014 11:43 (A review of
You've Got Mail
)
Ah… the good old days of the romantic-comedies involving Tom Hanks and Meg Ryan … This would be the last one they would make together. At the time, Tom Hanks was pretty much at the height of his career (he still one of the most respected actors at work nowadays) but for Meg Ryan, it was the beginning of the end as it was her last box-office success. Anyway, concerning the whole email thing, if you watch it nowadays, it is either really cute or really outdated, depending on your point of view concerning the subject. Anyway, you can't deny that it was pretty topical when it was released. Concerning the plot, I thought it was terribly thin and not really as compelling as 'Sleepless in Seattle', aslo starring Tom Hanks and Meg Ryan and easily the best movie directed by Nora Ephron, but it was still entertaining enough. Above all, Hanks and Ryan delivered some decent performances and they both once again had some great chemistry together. To conclude, even though it is far from being a masterpiece, I still think it is a decent romantic-comedy and I think it is worth a look, especially if you like the genre.

0 comments,
Reply to this entry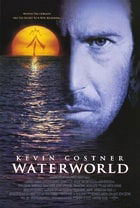 Posted : 4 days, 23 hours ago on 17 September 2014 08:31 (A review of
Waterworld
)
I remember it very well, before this movie was released, there was a huge buzz about it. This buzz was quite negative as the production costs sky-rocketed to $175,000,000 and it was therefore at the time the most expensive movie ever produced (it would hold this title for only 2 years until 'Titanic' was released). Indeed, there is always a risk when you are shooting on water and they had some major issues during the shooting causing the budget to keep rising. In fact, it has always been considered a box-office flop although it eventually grossed $255 million even though the already high budged mentionned before didn't include the massive marketing costs. Personally, I saw this movie in the theater when it was released. I was in the USA on holiday for the very first time (eventually, I went there about 8 times) and we went to see this flick. Honestly, I had a great time during those holidays and I was seriously exhausted when I went to see this flick so I actually fell asleep during the damned thing. That's how exciting it was. Eventually, I re-watched it a few years later, and even though it was watchable, it was just a rather weak version of Mad Max on water. To conclude, I have seen worse but it is still an average flick and I don't think it is really worth a look.

0 comments,
Reply to this entry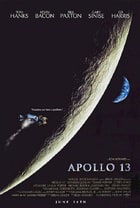 Posted : 5 days, 11 hours ago on 16 September 2014 08:57 (A review of
Apollo 13
)
I'm so glad I finally took the time to re-watch this flick. Indeed, if I recall correctly, I have seen it in the theater when it was released but never re-watched it since then. Anyway, this flick has definitely created some rather polarizing reactions. Indeed, some think it is a nail-biting historical thriller whereas some others think it was nothing really mind-blowing. To be honest, I first belonged to the second group. I mean, I admired the work behind, the attention to the details and the strong cast but I seriously had a hard time to care about the story. It is always the risk when you already know the outcome of a thriller as much of the excitement is then gone. The fans would argue that this movie is all about the built-up but, frankly, sometimes I had the feeling I was watching a very long and very expensive commercial about the greatness of the USA. However, the second time around, I was actually entertained throughout the whole thing and I really enjoyed it. Sure, the whole thing is terribly predictable, everyone was just so damnedd heroic and Ron Howard never took any risks at any moment but it was just quite inspiring and it was very nice that they didn't add up any villain just to spice up the proceedings. To conclude, even though I still don't think it is a real masterpiece, it remains a pretty good flick and it is definitely worth a look.

0 comments,
Reply to this entry