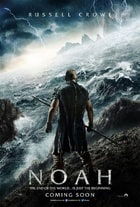 Posted : 3 hours, 20 minutes ago on 18 April 2014 10:57 (A review of
Noah
)
At last, Darron Aronofsky was allowed to make a big blockbuster and, of course, I was really eager to check the end-result. Eventually, he didn't go for the easy path and decided to go all the way and direct a massive biblical epic. To be honest, even though I was quite impressed, I'm still not quite sure what to make of the whole thing and I will probably re-watch it at some point in the future to make up my mind for good. First of all, it was visuallly impressive. I mean, throughout the movie, you get some mystical imagery but he managed to give it some really intriguing look and you really get the feeling that you are watching something out of this world. I have to admit it, I'm not a religious person, in the contrary, and I'm not sure I actually really cared about this ancient tale but I have always been fascinated by the concept of religion and this movie definitely gave some food for thought. Indeed, even though the scale was huge, the whole thing is basically about Noah himself and the struggles he has to face. How does he know exactly why his creator has meant him to do? He simply doesn't and becomes pretty messed up in the process. Indeed, while building the ark, all the animals come automatically so that wasnpretty easy but what about mankind? How do you decide to let millions of people to die? Did they all deserve this fate? From that point, Noah is eaten by guilt and becomes pretty much a fanatical doomsday despot who decides that even his family should die. And that's when the movie gets really fascinating and shows the difficult concept behind any faith and religion. Indeed, men are made of flesh and bones, they have feelings and even if you do something good, should you feel good about it, should you be proud? Noah did something terrible and he was even planning to kill his grand-children but he would save the planet in the process so that might be ok? Furthermore, who is he to decide who should live and who should die? I also enjoyed the way Ray Winstone developed some pretty interesting theories like if the creator gave us so many mighty gifts/powers and it is probably to use it, isn't it? And after all, aren't we dominating the world as it is nowadays? That's some very great stuff and still, somehow, I can't shake the feeling that the whole thing was not flawless. For example, the way Logan Lerman finds a girl was completely phony and also the way Anthony Hopkins had a major influence on those events didn't work very well either. Of course, you could say it was Good's will but I don't buy it as it is one of the major weaknesses in all religions in general. Still to conclude, it is quite a thoughtful epic and it is definitely worth a look, especially if you are interested in Darren Aronosfky's work.

0 comments,
Reply to this entry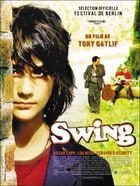 Posted : 8 hours, 36 minutes ago on 18 April 2014 05:42 (A review of
Swing
)
To be honest, I had seriously no idea what to expect from this flick but since Tony Gatlif's work is usually really interesting, I thought I should give it a try. As a matter of fact, Tony Gatlif is rather unknown here in Listal but his movies are actually pretty good. Usually, they deal with gypsies and other outcasts and there is definitely something mesmerizing about those movies. This time, he actually made a family feature still dealing with gypsies but with some kids as main characters. So, it was rather lighter than his usual work but I can't say I was really impressed by the plot himself. Indeed, in my opinion, the whole thing was just too pedestrian and, honestly, not really interesting. On the other hand, the music which has always been central in most of the movies directed by Gatlif, was once again really awesome and could almost be described as a character on its own. The kids also gave some decent performances and the whole thing was a pretty nice watch. To conclude, in spite of its flaws, it was a refreshing family feature and I think it is definitely worth a look, especially if you like the genre.

0 comments,
Reply to this entry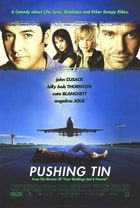 Posted : 8 hours, 39 minutes ago on 18 April 2014 05:38 (A review of
Pushing Tin
)
Honestly, I wasn't sure what to expect from this flick but since there was a pretty cool cast, I was quite eager to check this movie. Indeed, a movie involving John Cusack, Billy Bob Thornton, Cate Blanchett and Angelina Jolie would be quite an event nowadays but, back then, it was actually hardly noticed. Eventually, it is a rather odd movie dealing with air traffic controllers which gave you the feeling it was rather schizophrenic and didn't know what it was actually really about. The point is that all the details about the air traffic controllers were actually quite convincing and pretty neat but all the romantic intrigues involving the actors I mentioned before where rather underwhelming. I mean, it was fun to see the movie during which Billy Bob Thornton and Angelina Jolie fell in love (they would marry each other soon after for 3 years) but not much more than that, I'm afraid. Unsurprisingly, this movie was a flopped when it was released but I can't say I was surprised but I think it is a shame because the whole thing really had some potential. To conclude, even though the whole thing was a rather odd mix, I still think it is worth a look though.

0 comments,
Reply to this entry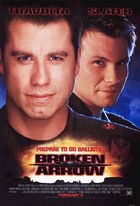 Posted : 8 hours, 42 minutes ago on 18 April 2014 05:35 (A review of
Broken Arrow
)
At some point, John Woo was considered the best director from Hong-Kong and it was a big deal when he finally decided to make the move to Hollywood. His first US feature, 'Hard Target', was actually pretty decent and definitely one of the very few movies starring Jean-Claude Van Damme which were actually watchable. This movie was his American follow-up and the scope was definitely bigger this time with a plot dealing with some stolen nuclear warheads. At the time, there was a pretty good buzz about this flick, everybody still had some high expectations about Woo's US career, and even though it didn't grow old very well, it was still a rather entertaining action flick. Back then, John Travolta just made his come-back with 'Pulp Fiction' a couple of years before and the guy was definitely a hot item. I think it was a great move from him to portray a villain, something really different than in his previous work in 'Get Shorty' and 'Pulp Fiction' and he was definitely one of the best things about this flick. Indeed, I always had a weak spot for Travolta and he always delivers when playing the bad guy. Back in those days, Christian Slater was still very much in demand (God, it was almost 20 years ago… I feel so old suddenly…) and he did his best but he was pretty much outperformed by Travolta. A part from this, the story was pretty much ludicrous but the action scenes were pretty solid and entertaining. To conclude, even though it is nothing really amazing, it remains a decent action flick and I think it is worth a look, especially if you are interested in John Woo's work.

0 comments,
Reply to this entry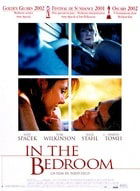 Posted : 1 day, 10 hours ago on 17 April 2014 03:28 (A review of
In the Bedroom
)
About 10 years ago, almost out of nowhere, Todd Field, an actor with a rather unremarkable career, released this directing debut and it reached some impressive critical acclaim, especially at the Sundance Film Festival. With this in mind, I was really eager to check this flick. Eventually, I thought it was indeed a really solid drama but there were some aspects that did bother me. Still, the actors involved (Tom Wilkinson, Sissy Spacek, Nick Stahl, Marisa Tomei) were all really good and delivered some very strong performances. Furthermore, those characters were all very much 3 dimensional and very intriguing. However, I had some issues with the major twists involved in this plot. Indeed, not once, but twice during this movie, you had a dramatic event which completely changed the situation. The first one,
Nick Stahl is shot by Marisa Tomei's ex-husband
, seriously came out of nowhere and while I thought the plot was going somewhere, it became something entirely different but it was still quite fascinating. The second twist,
Tom Wilkinson kills his son's murderer
didn't really work though as it became too much in my opinion. Still, in spite of these flaws, it remains a very intriguing drama and it is definitely worth a look, especially if you like the genre.

0 comments,
Reply to this entry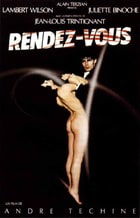 Posted : 2 days, 8 hours ago on 16 April 2014 05:53 (A review of
Rendez-vous
)
I have noticed that while André Téchiné is probably one of the most heralded directors in France, he is not very famous abroad which is quite a shame since he has directed some pretty good movies like this one for example which must be one of his best features. This time, he was working with a very young Juliette Binoche and it was one of her first movies (she made no less than 6 movies back in 1985). Binoche who was in her early 20's at the time, was just really brilliant in this flick. It is always fascinating to see someone so young showing such a wide spectrum of emotions. Her character was really confused and conflicted but I thought she was quite fascinating. I was also impressed by Lambert Wilson (yes, the french dude in 'The Matrix' sequels) and, together with Binoche, they had some very intense chemistry. Basically, it is one of those tormented French romances involving some rather messed up people but I always had a weak spot for the genre and this flick was really solid with a rather unhealthy love triangle. To conclude, I really enjoyed this movie and I think it is definitely worth a look, especially if you are interested in French movies.

0 comments,
Reply to this entry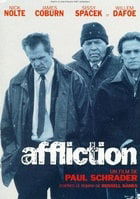 Posted : 2 days, 8 hours ago on 16 April 2014 05:51 (A review of
Affliction
)
Paul Schrader, who got his breakthrough after writing 'Taxi Driver' and also wrote 'Raging Bull, allegedly two of the best movies directed by Martin Scorsese, had a rather convoluted career as a director (his last movie, 'The Canyons', was apparently a dreadful mess and it got above all some negative publicity following Lindsay Lohan's erratic behavior) but I have always been intrigued by his work. Even though 'American Gigolo' is probably his most famous movie, I believe that 'Affliction' is actually his best flick and it reached wide critical acclaim when it was released. Indeed, it is basically a very dark story dealing with some rather unlikable characters and, even though, the story was intriguing, the characters were above all fascinating, thanks to some solid writing by Paul Schrader himself and some impressive performances by Nick Nolte and James Coburn (they would be both nominated at the Academy awards and James Coburn would even win). Eventually, this movie is about the mental meltdown of the main character beautifully played by Nick Nolte who was basically born to play such guys. To conclude, even though this movie tends to be forgotten, it was actually really good and it is definitely worth a look, especially if you like the genre.

0 comments,
Reply to this entry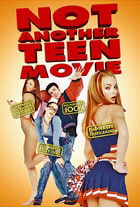 Posted : 2 days, 8 hours ago on 16 April 2014 05:49 (A review of
Not Another Teen Movie
)
Honestly, I have no idea how I ended up watching this flick. I think I rented it with some friends at some point. Anyway, basically, it is one of those spoofs, one of the most awful genres ever invented, but even though this one is not one of the best or one of the most known features in this style, it wasn't really awful either. The whole issue with this genre is the dreadful duo Jason Friedberg and Aaron Seltzer. Indeed, even though they wrote 'Scary Movie', allegedly one of the best spoofs ever made, they went to direct some of the worst movies ever made ('The Starving Games' , 'Vampires Suck', 'Disaster Movie', 'Meet the Spartans', 'Epic Movie', 'Date Movie'). Well, this movie was made just after 'Scary Movie' and before Friedberg and Seltzer made all these awful flicks so that it is where the movie lands quality-wise. Indeed, it is rather forgettable but not completely horrible and, at least, there was a decent cast (Chyler Leigh, Chris Evans, Jaime Pressly, Eric Christian Olsen, Mia Kirshner, Lacey Chabert, Mr. T, Molly Ringwald, Randy Quaid, Samaire Armstrong). To conclude, even though it looks and sounds awful, it is actually watchable but I still don't think it is really worth a look, except maybe if you are a die-hard fan of the genre.

0 comments,
Reply to this entry
Posted : 3 days, 5 hours ago on 15 April 2014 08:34 (A review of
High Crimes
)
I always had a weak spot for Ashley Judd and there was a time that she was not only on the A list but she was also the unofficial Queen of the thrillers for a couple of years. It actually all started with 'Kiss the Girls' which was also starring Morgan Freeman. Since this thriller was quite successful, 5 years later, they decided to make another one also with Ashley Judd and Morgan Freeman. In my opinion, it is basically one of those really far-fetched thrillers with a rather preposterous plot but while I'm not a huge fan of the genre, I thought that this one was actually not bad at all. Indeed, there was once again some very good chemistry between Ashley Judd and Morgan Freeman and the rest of the cast (Jim Caviezel, Amanda Peet, Michael Shannon) was pretty solid as well. Eventually, the whole thing was actually quite entertaining but, as usual with this kind of thrillers, the ending was really underwhelming and completely undermined the impact of this story.
Indeed, it is one of those thrillers which builds up an intriguing plot but, at the end, they basically make a U-turn and tell you that everything you just saw was wrong and the seemingly smart people involved were actually fooled by some sort of mastermind
. Still, in spite of this rather poor gimmick, it remains a rather entertaining flick and I think it is worth a look, especially if you like the genre.

0 comments,
Reply to this entry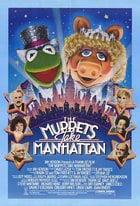 Posted : 4 days, 5 hours ago on 14 April 2014 08:58 (A review of
The Muppets Take Manhattan
)
Following with my plan of watching all the Muppets movies this year, I went on with this 2nd sequel and, at first, I was rather worried. Indeed, I thought the story was just way too similar to the first movie during which the muppets went to Hollywood to find fame and, this time, they were going to Broadway with basically the same purpose. Still, even though the plot was therefore rather disappointing, I still enjoyed the damned thing. Indeed, there were some really nice scenes, especially the one where they introduced the awesome Muppet Babies (their cartoon premiered two months after this film was released, some pretty smart marketing if you ask me) and, at last, Kermit and Miss Piggy finally managed to get married which was pretty cool as well. Also, at last, they finally focused on one muppet, of course it was Kermit, instead of having dozen of them at the same time and it worked better to move on the narrative. I missed some of their meta jokes ('hey, look guys! We are in a movie!') and the songs were still rather boring but, all in all, it was a decent watch. To conclude, even though it was once again nothing really amazing, it was still quite entertaining and it is worth a look, especially if you like the genre.

0 comments,
Reply to this entry